Remote as we are on Wabaskang Lake, and with the highways far behind you, you will enjoy many of the amenities of home you would not expect in the wilderness. Your cabin rental will come complete with electricity 24/7, hot and cold running water, flush toilets, and a hot shower in your cabin at the end of a great day of fishing. Whether you are planning a trip for a group of fishing buddies or plan to bring the family, we are confident you will be pleased with the cleanliness of our accommodations and top flight customer service.
As you enter your cabin, you will notice the care that was used in preparing it for your arrival.  Everything will smell clean, look clean and BE clean.  Your cabin rental will come complete with all your bedding, dishes and cooking utensils, a full size propane stove for all your cooking needs, a refrigerator for all your perishable food items, a wood burning stove for those cool nights or mornings (we keep your wood box in your cabin full for you), flush toilets and a hot shower. Electricity is provided 24/7 via generator with a back up generator on site.
Family vacations are best in July and August. The weather is generally warm and dry, and yes you can swim in Wabaskang Lake this time of year. The kids can enjoy swimming off the dock (we provide the ladder) or one of the sandy beach areas around the lake, volleyball, soccer, badminton, and many other games we have in camp. Softball games have been known to break out in camp on the lower lawn when kids are in camp too.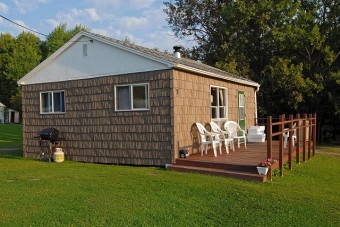 Eight guest cabins are located in camp and are available for your group. Each cabin rental provides its own unique view of the lake, and has its own private deck and gas grill.
The camp also has a separate shower house facility with two additional 3 piece baths which can be used as an overflow for your group's convenience.
As remote as we are, there is telephone service available to guests in camp AND although we have no roads around camp for you to listen to the highway traffic, we DO have wireless internet access available at no charge.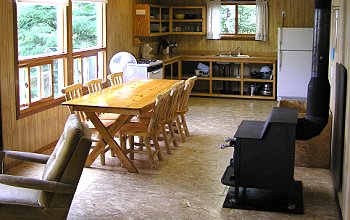 The sleeping capacities of the cabins are as follows:
Cabin #1- Sleeps 5 (one bedroom)
Cabin #2- Sleeps 4 (two bedrooms)
Cabin #3- Sleeps 4 (two bedrooms)
Cabin #4- Sleeps 6 (three bedrooms)
Cabin #5- Sleeps 4 (one bedroom)
Cabin #6- Sleeps 6 (three bedrooms)
Cabin #7- Sleeps 6 (three bedrooms)
Little 7 – Sleeps 2 (single room) Enjoy this quaint and cozy one room cabin at a reduced rate!
Cabin #8- Sleeps 6 (three bedrooms)
Each bed is a twin size, single bed that comes complete with comfortable mattress, box springs and all bedding and pillows to ensure a comfortable nights rest.
Little 7- Is also used as "overflow" for our 8 person bookings and is provided at a reduced rate whether booked as a stand alone cabin or as a part of a larger group..